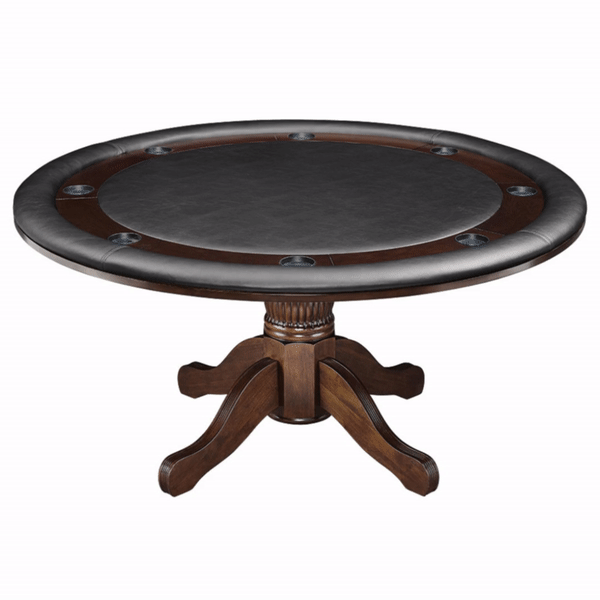 2 In 1 - Table Top and Card Table
Easily to turns into an Elegant dining table. It equipped with 8 drink holders for your gaming pleasure. Simply flip the top and the dining table surface quickly turns into a card table surface.
Waterproof Gaming Surface

Smooth Padded: Your cards will elegantly slide across this surface
⭐⭐⭐⭐⭐
Top Rated Game Table 2022
Hear From Our Amazing Customers!
Awesome table! We are so pleased with this purchase. This table is ideal. Solid wood, easy to remove and flip over the top for game nights with friends.
I searched for months for a poker table, So far I have been very happy. The items were all easy to put together, the parts are a bit heavy - but that is good. Because the table is all solid, sturdy, comfortable, and great looking. Great addition to my new man cave!
We Love This Table. It Is Very Sturdy, Very Heavy And Well Made. It Is Fun To Be Able To Make It Into A Game Table, It Was Not Hard To Put Together, But Like I Said, Heavy. Very Good Quality And The Surface Is Fabulous
took a little over an hour to bolt together. Two people makes it easier. Pretty good finish. recommends not using castors on hardwood floors. card top is pretty nice. Cant wait for game night!
⭐⭐⭐⭐⭐ Top Rated Game Table 2022
Can't Find Question? Call Us (909) 447-9018 Or Email Us help@edwardcreation.com
Is it solid wood? how heavy is it?
yes, it is solid wood, 190 lb
how many poker player stations?
yes, but it is really easy
We have black, cappuccino, chestnut, english tudor, and slate
is this fixture recommended for outdoor use on a covered patio?
Is the top surface of the bar veneer or wood?
the table top that can flip is veneer
What is the shipping that comes with this piece? Will they bring in the house and take packaging away?
Yes, they will bring it into your home, unwrap and remove packing materials.
Will the cup holder fits standard scotch glass ? Or is it just for the beer bottle or cans ?
it hold all beer bottle or beer can sizes. Glassware larger than a beer bottle would not fit.
Solid, Stable, quality materials and construction
"We love this table. It is very sturdy, very heavy and well made. It is fun to be able to make it into a game table, It was not hard to put together, but like I said, heavy. Very good quality and the Surface is fabulous!"
Great poker table set
Beautiful piece of furniture. Everything was easy to put together and very sturdy
We love it
Took forever to get but was just what we were looking for
Beautiful
I received this set a couple days after ordering. I was very happy when I saw the rich dark walnut color of the wood. After reading some of the reviews I was worried about the quality of the chairs but I can say I was pleasantly surprised. The chairs are sturdy and strong. They roll well and the entire set is well made. We followed the directions to put it all together and made sure everything was tight before use. We did have one issue and a piece did not come with the initial delivery but I called the company on a Tuesday and I received the missing piece by Thursday. Excellent customer service! I would definitely recommend this set to others.
Great poker table set
Loved the portability and sturdiness
Sturdy, smooth poker table top
Great product. Priced right, fits the table perfectly and folds up super easy! Poker night with the boys is a success!