1 Year Factory & 2 Years CPS

Enjoy worry-free ownership with our FREE 2-year warranty through CPS. We cover manufacturers defects, accidental damage (stains, rips, tears, cracks, and structural damage), and even handle shipping to and from authorized repair facilities.
For more information, click
here
⭐⭐⭐⭐⭐
Top Rated Lift Chair 2023

Our lift chair is specifically designed to give you the comfort and support you need.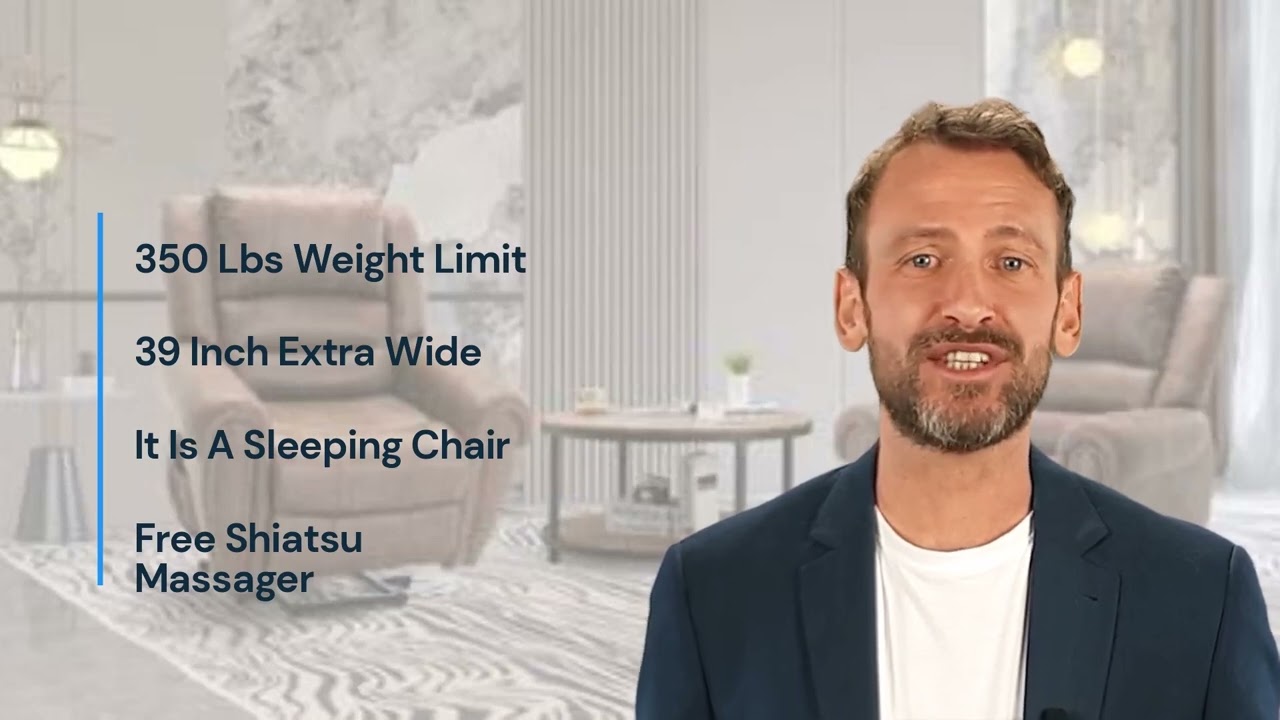 Heavy Duty Motor - up to 300 Lb
Super quiet heavy duty motor with our safety motion technology! This motor can smoothly adjust to any customized position, making it the perfect choice for big. Plus, our lift chairs come with a variety of safety features that make them the safest choice on the market.
⭐⭐⭐⭐⭐
Top Rated Lift Chair 2023


This chair is perfect for seniors! you know how hard it can be to find furniture that's both comfortable and stylish. But don't despair - the 39 Inch Wide Chair is here to help! This lift chair is specially designed for those who need a little extra space, and it's perfect for anyone who loves to sleep in comfort. With padded headrest, this chair will provide you with the ultimate in relaxation.
⭐⭐⭐⭐⭐
Top Rated Lift Chair 2023

For those who want the best in comfort and style, premium grade velvet upholstery is the way to go. This luxurious fabric is soft and breathable, making it a great choice for lift chairs and other oversized furniture. It's also easy to clean with a vacuum, making it a low-maintenance option for busy households. Whether you're looking for a new sofa or lift chair, premium grade velvet upholstery is a great choice for any home.
⭐⭐⭐⭐⭐
Top Rated Lift Chair 2023

Looking for a comfortable chair to sleep in? Look no further than the Overstuffed Pillow Chair! This chair is designed with your comfort in mind, with a high back and thick cushion. You'll love sitting and sleeping in this chair.

⭐⭐⭐⭐⭐
Top Rated Lift Chair 2023


Assembling a lift chair is easy and fast. In just four steps, you can have your chair ready to use.
⭐⭐⭐⭐⭐
Top Rated Lift Chair 2023

Hear From Our Amazing Customers!
Im so glad I decided to take the plunge and get one from Edward Creation. It has been a lifesaver since my spine injury 9 months ago. The chair is incredibly comfortable and provides great support for my legs, which have been weak and in pain since the injury. I would highly recommend this lift chairs to anyone looking for relief from back pain!
I recently purchased the chair and I am so glad I did! It was incredibly easy to set up and arrived within 6 days. The chair is extremely comfortable and the best part is that you can raise the legs to a flat position before reclining the back. I highly recommend this chair for anyone looking for comfort and convenience!
I bought one for my elderly father who recently had a knee replacement surgery and has been having mobility issues ever since. He loves it so much that he's even sleeping in it! The comfort level is just amazing and I'm so happy that I found this chair for him. It has made his life so much easier!
I recently purchased chair and I am so glad I did! It has been a lifesaver for me. I'm getting ready to have a knee replacement and needed something that would make it easy to transition from sitting to standing. The chair arrived in perfect condition and is just what I was looking for. Highly recommend this product
⭐⭐⭐⭐⭐ Top Rated Lift Chair 2023

Can't Find Question? Call Us (909) 285-9993 Or Email Us help@edwardcreation.com

Does this chair recline fully with power?
Yes, this lift chair can be fully reclined with power.
approx 2 feet, you can use extension cord to plug into wall outlet
Can a back up battery be used to operate chair during a power outage?
Yes, you can use portable power station like Jackery
Yes, 1 year factory warranty
I have hardwood floors. Will the chair scratch my floors
better put a chair mat under it
Does this chair have heat and massage in it?
no, this lift chair was designed for sleeping, but you can check other lift chairs in our store
What is a good cover for this chair?
message us for the free sofa cover
When you fully recline in this chair, are your feet higher than your heart?
Yes..its a great comfortable chair
It is so comfortable that i fall asleep in it and the lift is great for my back and hips

"We love this chair. We should have bought one years ago. I had back surgery and this chair was my savior. It's so comfortable that I fall asleep in it and the lift is great for my back and hips."
Not for tall people
I bought this for an upcoming surgery in a few months with the hope that I'd also be able to sleep in it for a night or two if needed. Definitely not going to happen.Pros: Easy to assemble. The material is soft and looks like a more expensive chair. The remote is easy to reach (side pocket) and intuitive to use.Cons: I'm 5'11 and my feet hang off when inclined. It's awkward and uncomfortable. I read a few reviews where tall individuals stated this chair works great for them so obviously it's personal preference. The chair is more than wide enough but nothing sits well with my feet or neck.Overall, it's a great looking chair, the electronics work well, and I'd recommend it to anyone who is 5'9 and below.
Great lift chair
I was nervous buying furniture sight unseen, but this was a great purchase. My husband is pretty immobile right now and he's in this chair 23 hours a day. It's comfortable, supportive, and looks really nice too, not like a standard lift chair. The fabric is beautiful. I don't think the fabric is sturdy enough to withstand pet abuse. It fits my 5'8" husband well.
Comfortable, good quality, great price
I bought this to sleep on after rotator cuff surgery, 7 weeks - 24/7 in an because sleeping with an isolator in a bed is almost impossible. Afterwards I have a the perfect chair in my bedroom to read or watch TV or maybe a quick afternoon cat nap.
All around a nice chair.
The chair is amazing for the most part. It does everything but lift your legs all the way straight. The recliner part is quite short. Your legs hang off when it's reclined.
Nice lift chair
Purchased for my elderly parents for ease of sitting down and rising back up. It works very well and I recommend it to anyone in need of such a product.
FREE 2 Years CPS Warranty