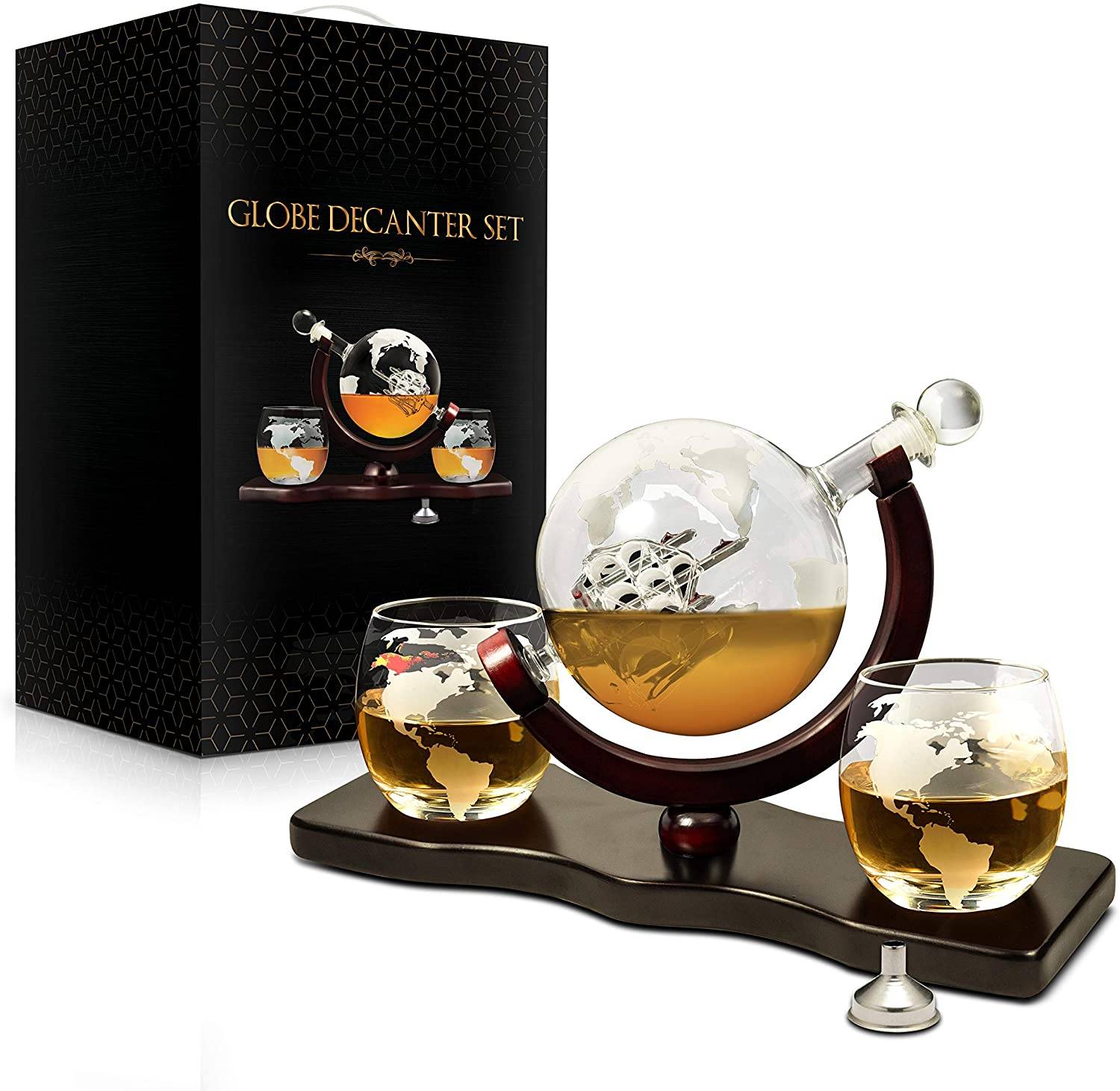 FREE Wine Globe Decanter Set
Limited Offer with Purchase of Bar Cabinet

$100 Value
World etched 28 Oz 850 ml globe whiskey decanter with a vintage sail ship, wood tray, two world etched drinking glasses, metal pour funnel and a glass stopper. Phew!
Hear From Our Amazing Customers!
Very easy to assemble and it is very well made. Great bar for any addition to your home!
Good construction, solid feeling pieces, arrived completely intact and came earlier than expected. Fit in place as hoped. Love the look, the color and size.
This was a birthday present for my husband and he was very pleased. There is plenty of storage space and it's a very nice looking piece of furniture. I bought this design because it looked very similar to my wall unit, and it turned out that it matches perfectly! Very happy with my purchase
My husband and I just finished putting this together. Total enjoy this bar. lots of shelf space. I'm very pleased with the quality of this product and so excited to put it to use
⭐⭐⭐⭐⭐ Top Rated Bar Cabinet 2021
Can't Find Question? Call Us (909) 447-9018 Or Email Us help@edwardcreation.com
It's a beautiful piece. Very heavy. Solid wood. Holds many bottles. Have received many compliments.
Do alcohol spills on the surface cause damage or do I need a mat?
There's always potential for bubbling and delamination if liquid sits on it for any length of time. Under normal use, I'd say this wouldn't happen but a mat is a pretty easy solution to prevent damage.
yes, but it is really easy
what kind of wine bottles are stored in drawers ?
It is a very beautiful piece. It holds regular wine bottles
is it the wood dry bar foot rail included?
no, need to buy that separately.
Is the top surface of the bar veneer or wood?
It is all real solid wood. heavy and sturdy.
It is easy to assemble, fits together well, and the directions are clear.
What is the shipping that comes with this piece? Will they bring in the house and take packaging away?
Yes, they will bring it into your home, unwrap and remove packing materials.
The quality is amazing, the amount of space for beverages is a pleasant surprise
"I absolutely love this bar!!! Fits perfectly in the space I bought it for the quality is excellent I didn't realize it was as heavy as it was."